AJ's Natural Healing Massage
2210 E La Salle Street, Suite 110
Colorado Springs
,
CO
80909
Phone: (719) 428-5299
Website
Type of Business:
Massage Therapy
Coupon: 60 Minute Massage for $42.50 and 90 Minute Massage for $72.50
* Massage includes free essential oils upgrade and hot towel. One coupon per person and may purchase offer as a gift. Call to book your appointment and mention coupon at time of booking. Not to be combined with any other offer or promotion.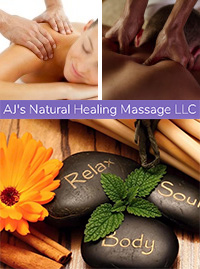 For over seven years, AJ – owner and licensed massage therapist of AJ's Natural Healing Massage has been offering holistic, outstanding and affordable care to those who struggle to find consistent massage. Her recent expansion and talented team has given her the means to provide many people in the Colorado Springs area the ability to feel better so that they can enjoy their everyday activities without pain or discomfort. AJ and her professional therapists offer a variety of techniques/modalities and tailor each massage towards every individual client.
Come in for a therapeutic massage, and let us help you on your journey towards healing and recovery!
AJ's Natural Healing Massage

2210 E La Salle St., Suite 110
Colorado Springs, CO

80909

(719) 428-5299

60 Minute Massage for $42.50 and 90 Minute Massage for $72.50
Expires February 29, 2020