AmeriEscape
210 East Charleston Boulevard
Las Vegas
,
NV
89104
Phone: (702) 960-6020
www.ameriescaperoom.com
Type of Business:
Escape Room
Coupon: $5 off escape room admission
* Click HERE to book your ticket and use Coupon Code: LOONIE5 at checkout to receive discount. Discount valid per ticket purchased. Subject to availability. Not to be combined with any other offer or promotion.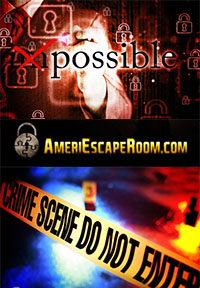 AmeriEscape located in Las Vegas, Nevada offers a variety of live, interactive mystery games in which players solve a series of puzzles and riddles using clues, hints, and strategy to complete the objective at hand. Players are given a set time limit to unveil the secret plot which is hidden within the rooms. Escape rooms are inspired by "escape-the-room"–style video games.
Our games are set in a variety of fictional locations, such as prison cells, dungeons and Egyptian pyramids, and usually the various puzzles and riddles themselves follow the theme of the room.
We are a great place to visit for a night out with friends or family, a date/game night, bachelor/bachelorette party, corporate function and more. Visit our website and choose your challenge!
AmeriEscape

210 E Charleston Blvd
Las Vegas, NV

89104

(702) 960-6020

$5 off escape room admission
Coupon Code: LOONIE5