Big Tires
21932 South Avalon Blvd
Carson
,
CA
90745
Phone: (310) 835-5607
www.bigtires.co
Type of Business:
Automotive
Coupon: Conventional Oil Change for $14.99 or Wheel Alignment for $35 or Brake Pad Replacement for $69 or Buy 2 Tires and Get 2 Tires FREE
* Additional charges may apply for certain types of vehicles. Brake pad replacement valid for up to $150. Call to book your appointment and mention coupon at time of booking. Not to be combined with any other offer or promotion.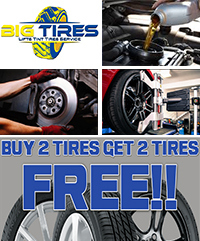 Big Tires located in Carson, California is your one stop shop for all your automotive parts and service needs. For over 30 years, we've been helping maintain our customers' vehicles and we want you to join our family. Whether it be a tire replacement, strut and/or shock replacement, brake job or even a simple oil change we're always there to help keep your car in great condition.
Need new tires, look no further! We have a huge selection of tires including such brands as Goodyear, Michelin, Firestone, BFGoodrich, Bridgestone, Nitto and much more.
Big Tires

21932 South Avalon Blvd
Carson CA

90745

(310) 835-5607

Conventional Oil Change for $14.99 or Wheel Alignment for $35 or Brake Pad Replacement for $69 or Buy 2 Tires and Get 2 Tires FREE