CrossFit BNI
4021 Crescent Park Drive
Riverview
,
FL
33578
Phone: (813) 671-9230
www.crossfitbni.com
Type of Business:
Fitness
Coupon: $50 Off First Month of CrossFit or Introductory Classes
* Regular price is $165. Valid for new clients only. One coupon per person. Must present coupon at time of registration. Not to be combined with any other offer or promotion.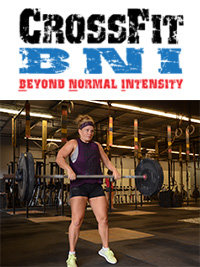 CrossFit BNI (Beyond Normal Intensity) located in Riverview, Florida, trains men and women of all ages and backgrounds who are looking to get stronger, faster, more confident and more motivated.
We are proud to offer a wide range of classes from cutting-edge CrossFit workouts to the best Personal Training in town. There is a multitude of equipment at our box from standard CrossFit including Air Assault bikes and sleds, to some of the "fun" different toys like peg boards, ski erg, a handstand ramp and stairs obstacle and even Strongman equipment like Atlas stones, log press, Circus dumbbell, axle bar and more.
CrossFit BNI

4021 Crescent Park Drive
Riverview, FL

33578

(813) 671-9230

$50 Off First Month of CrossFit or Introductory Classes