Distinguished Pistol Outdoor Shooting Range
431 New Castle Farm Road
Mebane
,
NC
27302
Phone: (336) 421-9136
info@distinguishedpistol.com
www.distinguishedpistol.com
Type of Business:
Shooting Range
Coupon: Private Couples Shooting Experience for $250
* Regular price is $310. Must be of legal age and minors to be accompanied by parents. Sessions typically last for more than an hour. Call or email to register for course or private lessons and mention coupon at time of booking. Group discounts are available. Not to be combined with any other offer or promotion.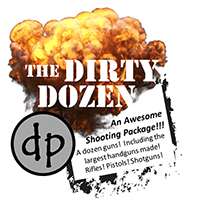 Handgun, Rifle and Shotgun Shooting Experience – Shoot a dozen firearms, including some of the largest and most powerful handguns on the market! Go ahead! Make your day, and check this off your bucket list! This exciting experience is now available for only $250 per couple – yes, bring a friend! This awesome experience is regularly priced at $310, so you will save big when you use your Loonie Coupon!
At Distinguished Pistol, we're all about having some country-style family fun! As far as we're concerned, nothing beats a day in the countryside with family and friends, or the rush you get from shooting a .50 caliber revolver or a .30-06 hunting pistol! If you're anything like us, after your first shot, you'll be hooked on outdoor shooting forever. Whether you're interested in honing your marksmanship skills or just trying out some different handguns, rifles or shotguns … here at Distinguished Pistol is the place you'll want to be. Call for more information and make your reservation today!
Distinguished Pistol Outdoor Shooting Range

431 New Castle Farm Road
Mebane, NC

27302

(336) 421-9136

Private Couples Shooting Experience for $250