Eyes on Eyes Optical
9929 Keele Street, Unit 110
Maple
,
ON
L6A 1Y5
Phone: (905) 832-6262
www.eyesoneyesoptical.ca
Type of Business:
Optical
Coupon: Frame and Lenses for $100, Frame and Lenses with Anti Reflection Coating for $150, Frame and Progressive Lenses with AR Coating for $250 and Eye Exam for $75
* Valid for single vision only. Not valid on brand name frames. Doesn't include high powers. Call to book and appointment for your eye exam. Not to be combined with any other offer or promotion.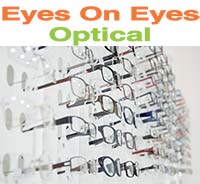 Eyes on Eyes Optical is a high end optical store located in the heart of Maple, Ontario. We believe in providing our clients and patients with the best customer service and have a great experienced team with years of experience in the industry. Let our optical professionals make you look great with our fashionable trend glasses. We offer a very unique collection of non-brand and brand name frames to suit your face, needs and budget.
Eyes on Eyes Optical

9929 Keele Street, Unit 110
Maple, ON

L6A 1Y5

(905) 832-6262

Frame and Lenses for $100, Frame and Lenses with Anti Reflection Coating for $150, Frame and Progressive Lenses with AR Coating for $250 and Eye Exam for $75