jerZjump
51 Stouts Lane
Monmouth Junction
,
NJ
08852
Phone: (732) 438-5867
Type of Business:
Kid's Entertainment/Kid's Birthday Parties
Regular price is $30. Includes small drink and 10 tokens for each child. One coupon per person. Day pass must be used on same day purchased. Not to be combined with any other offer or promotion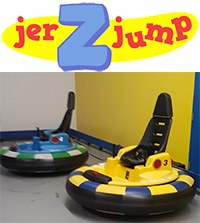 jerZjump is New Jersey's most exciting family open play entertainment center! We offer 17,500 square feet of family fun for ALL ages which include bumper cars, rock wall, open play room, an arcade and a snack bar to entertain your family for hours.
Looking for a place to book your child's next birthday party? We have a separate designated area for your celebration! When you book your party, it includes 40 minutes to enjoy cake and pizza in a private room! Your event is staffed with two of the jerZjump team to take care of all preparations and cleaning up.
jerZjump

51 Stouts Lane
Monmouth Jct, NJ

08852

(732) 438-5867

Day pass for two kids for $22