JLA Massage & Bodywork
5570 Richmond Road
Troy
,
VA
22974
Phone: (434) 218-3359
Website
Type of Business:
Massage Therapy
Coupon: 60 Minute Couples Massage for $100 or for One for $55 or 90 Minute Couples Massage for $150 or for One for $80
* Call/text to book your appointment and mention coupon at time of booking. Not to be combined with any other offer or promotion.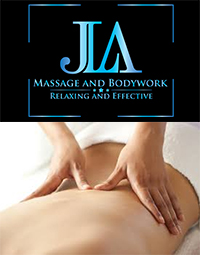 Located in Troy, Virginia, JLA offers a massage service that utilizes various techniques such as Medical, Swedish, Sports, Stretching, Myofacial and Deep tissue. Our goal is to educate our clients on the benefits of massage and to help integrate massage for a better quality of life.
JLA Massage & Bodywork

5570 Richmond Rd
Troy, VA

22974

(434) 218-3359

60 Minute Couples Massage for $100 or for One for $55 or 90 Minute Couples Massage for $150 or for One for $80