New U Pink Boutique
Located inside New U Rejuvenation Center
1315 Hot Springs Way, Suite 101
Vista
,
CA
92081
Phone: (858) 751-9632
www.newu.pink
Type of Business:
Beauty/Wellness
Coupon: $25 off a Full Body X'Tract Lymphatic Cleanse OR 10% off a Lower or Upper Body X'Tract Cleanse
* Valid for new clients only. One coupon per person. Call to book your appointment and mention coupon at time of booking. Not to be combined with any other offer or promotion.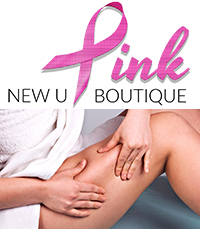 New U Pink Boutique provides Mastectomy Prosthesis, Compression Garments, Sleeves, Camisoles, Bras, Swimwear, Wigs, Hats, Clothing and Beautycounter Products. In addition to providing these products at the boutique or in the comfort of your home. New U Pink Boutique provides health and wellness services including X'tract Lymphatic Cleanse, Foot Detox, and Sleeve or Full Body Compression.
X'Tract Lymphatic Cleanse
X'Tract is a toxic release and cleansing technique that targets the lymphatic system.
Four main types of toxins that are addressed through toxic release include: heavy metals, chemical toxins, microbial compounds, and byproducts from protein metabolism. A X'Tract Lymphatic Cleanse can provide benefits for the skin, liver, intestines and kidneys.
New U Pink Boutique

101-1315 Hot Springs Way
Vista, CA

92081

(858) 751-9632

$25 off a Full Body X'Tract Lymphatic Cleanse OR 10% off a Lower or Upper Body X'Tract Cleanse