Proactive Chiropractic & Sports Medicine
403 N Pacific Coast Hwy, Suite 201
Redondo Beach
,
CA
90277
Phone: (310) 798-8777
www.proactivedocs.com
Type of Business:
Chiropractic/Acupuncture/Massage
Coupon: Free Consultation/Exam and 30% off any treatment
* Valid for new clients only. One coupon per person. Valid on first visit only. Call to book your appointment and mention coupon at time of booking. Not to be combined with any other offer or promotion.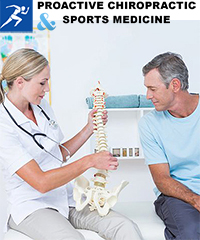 Proactive Chiropractic & Sports Medicine located in Redondo Beach, California is a multi-specialty clinic offering the best of Chiropractic, Acupuncture, Massage therapy and Sports medicine. Servicing the Southbay area, we offer a hands on approach including a combination of soft tissue therapy and gentle joint mobilization along with physical therapy modalities including ultrasound, electro therapy and stretching/strengthening exercises.
Proactive Chiropractic & Sports Medicine has earned recognition for its remarkable effectiveness in sports related injuries and its focus on natural, drug free, non-invasive methods of treatment of the neck, back and joints.
Proactive Chiropractic & Sports Medicine

403 N Pacific Coast Hwy, Suite 201
Redondo Beach, CA

90277

(310) 798-8777

Free Consultation/Exam and 30% off any treatment