Something Sacred Hypnotherapy
3417 Evanston Avenue North, Suite 317
Seattle
,
WA
98103
Phone: (206) 200-2888
www.audrasanderhoff.com
Type of Business:
Hypnotherapy
Coupon: 25% Off Four Session Hypnotherapy Package
* Includes 30-minute free consultation. Click HERE to book your consultation and present coupon at time of appointment. All sessions must be used by same person. One coupon per person. Not to be combined with any other offer or promotion.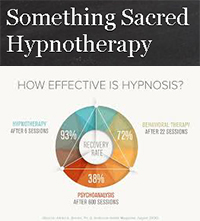 Hypnotherapy works when everything else has failed. At Something Sacred Hypnotherapy located in Seattle, Washington, learn how Hypnosis can help you achieve your goals. Do you want to be rid of annoying habits, fear, phobias, insomnia, anxiety, PTSD, sleep disorders, over eating, smoking, depression, stress, grief, nail biting, hair pulling, etc. You name it, we can help get you relief in as few as four sessions!

Something Sacred Hypnotherapy

3417 Evanston Ave N, Ste 317
Seattle, WA

98103

(206) 200-2888

25% Off Four Session Hypnotherapy Package