Studio Fit One
4418 Belden Village Street NW
Canton
,
OH
44718
Phone: (330) 493-9489
www.studiofitone.com
Type of Business:
Fitness Boutique
Coupon: 5 Class Pack for $19
* Regular price is $50. Valid for new clients only or clients who have not visited studio in past 6 months. One coupon per person. All classes must be used by same person and within 60 days from date of registration. Call (330) 493-9489 or stop in at 4418 Belden Village St. NW Canton OH 44718 to pay for your class pack. Not to be combined with any other offer or promotion.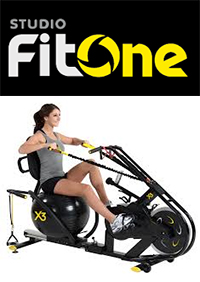 If Studio Fit One seems confident about helping its clients lose weight, that's only because it has an ace up its sleeve: the X3 cardio machine. Unlike any machine before it, the X3 provides a workout that engages every muscle in the body without unnecessary risk of injury. The machine combines a stationary bike, and exercise ball, and resistance bands into one handy machine, ensuring that arms, legs, and core are all engaged. During 45-minute sessions, clients at Studio Fit One follow along with expert certified instructors, who lead classes through music-driven moves. Each session can burn up to 500 calories, helping clients shed pounds and sculpt muscles all at once.
Studio Fit One

4418 Belden Village St NW
Canton, OH

44718

(330) 493-9489

5 Class Pack for $19