Theater Works in Bellevue
10416 SE Wolverine Way
Bellevue
,
WA
98004
Phone: (206) 819-6039
www.theaterworksinbellevue.com
Type of Business:
Summer Theater Classes
Coupon: Purchase one week of camp at regular price and receive 20% off for additional sibling registered
* Additional child registered must be in same family. Click HERE to register and present coupon at time of payment. Not to be combined with any other offer or promotion.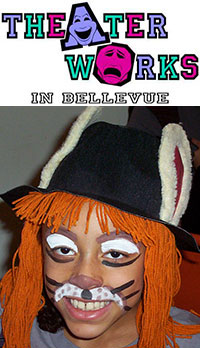 Theater Works in Bellevue uses the natural curiosity of children to teach all aspects of the theatrical arts taught by a professional teaching staff. We provide a place for all ages, all abilities and experience levels to discover, create and explore theatrical arts in a non-competitive environment.
Our summer camp classes are jam packed with fun things to do daily and to teach your child theater skills. At the end of the week, a short show will be performed to showcase our young actors talents.
Theater Works in Bellevue

10416 SE Wolverine Way
Bellevue, WA

98004

(206) 819-6039

Purchase one week of camp at regular price and receive 20% off for additional sibling registered